Send Inquiry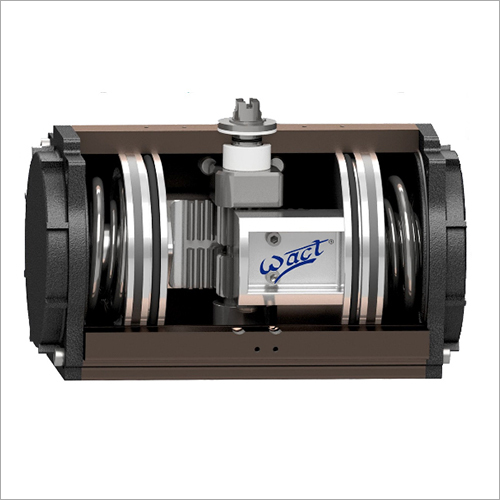 Product Description
WMS Technologies Pvt. Ltd.
WACT is a brand name of WMS Technologies with best known expertise in Manufacturing of highly designed and engineered Rack & Pinion and Scotch yoke Actuators.
WMS started its business in Houston Texas USA in 2001 as a Sourcing company. Towards backward integration, they set up manufacturing facility in Vadodara- Gujarat in 2008, to cater to OIL & GAS business segment. They have a huge spectrum of Scotch Yoke Rotary type Pneumatic, Hydraulic and Pneumatic Rack & Pinion Actuators, apart from our conventional business of Spares for Upstream Oil & Gas Industry like High Pressure Flanges, Spools, Tees, Crosses, Bonnets etc. and Hubs & Sleeves for Industrial Power Transmission Sector. They have been an established and popular company with an excellent track record for the best customer satisfaction.
WMS Head office is based at Houston Texas USA with manufacturing facility at Vadodara, Gujarat, India. Since its foundation of manufacturing in 2008, they have been catering to more than 500 Customer in the process Industry for Base Chemicals, Fine & Speciality Chemicals, Pharmaceutical Industry with strong presence in Food, Mining, Semiconductor, paper and Agro-chemicals, Fertilizer Industry etc.
WMS well designed, precisely engineered Products are used with different Valves to Transport & manage highly corrosive, environment critical, high purity and other difficult to manage fluids in the most challenging applications.
With their increased business horizon in Indian subcontinent they offer complete automation solutions along with their Actuators (Sales, Service, Spares) for various critical applications. Their Actuators can deliver torque up to 12,00,000 Inch Lbs.
Specialties , Salient features, why WACT
They manufacture ULTRA-LIGHT Scotch yoke actuator that can replace every conventional Rack & Pinion actuator.
Their Canted Yoke Actuators are working smoothly on ESD applications.
We are one of the very few manufacturers in the World Manufacturing Heavy Duty actuators up to 12,00,000 In Lbs Torque.
They are the solution provider for the Automation of any type of Valves.
WACT Approvals
ISO 9001 2015
ATEX
CE
PED
SIL III (under process)
Enter Buying Requirement Details